Litigated hundreds of cases.

Millions Collected for our Clients.
We never charge a fee unless we collect on your behalf
Underinsured Motorist Verdict
Personal Injury Attorneys
The Las Vegas injury attorneys at Hicks & Brasier understand the physical, emotional, and financial toll an unexpected injury can have on victims and their families. When severe injuries land you in the hospital, prevent you from working to support your family, and cause you physical or emotional pain, it can be overwhelming.
You don't have to battle through this difficult time alone. Let our accident lawyers take some of the weight off of your shoulders. We will help you file your personal injury claim or lawsuit, negotiate with the at-fault party to obtain a fair settlement, and bring your case before a judge or jury if the other side doesn't want to cooperate.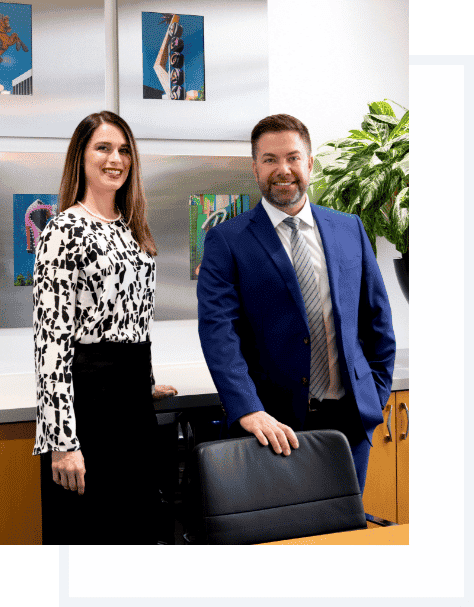 Discover how our injury law firm can help you move forward.
Call 702-628-9888 for a free, no-obligation consultation.
Free Initial Consultation
Discuss your case with one of our attorneys with no obligation or cost.
We limit the number of accident and injury cases we accept to ensure we can provide you with the personalized service you deserve.
Our team will pursue every avenue of liability to optimize the amount of compensation you receive.
Hiring the Right Injury Attorney to Win Your Case
When the negligence of another party causes you to become injured, the attorney you choose to handle your case can make all the difference. Just because a lawyer claims to handle accident and injury cases does not mean he or she is the best injury attorney for the job – or the right lawyer to handle your case.
Why Hire the Accident Lawyers at Hicks & Brasier?
At Hicks & Brasier, accident and injury law is all we do. We understand Nevada and federal laws, statutes, and the unique nature of personal injury cases. While other firms might understand the basic fundamentals of personal injury law, we have the knowledge, experience, and resources to win your case.
Experience is key when hiring a personal injury attorney to handle your case. Our team of injury attorneys have decades of combined experience in handling cases.
In most cases, it takes superior negotiating skills to obtain a fair settlement for an injured victim. Our lawyers have a proven track record of success in negotiating with insurance companies and large corporations to help our clients obtain the compensation they need to move forward after an injury.
Our team has the knowledge it takes to optimize your personal injury award. Whether you were involved in a multi-car pileup on I-15, a slip and fall at the casino, or an accident with a commercial truck or rideshare driver, our lawyers know how to sort through the maze of liability issues to ensure you obtain compensation from all responsible parties.
The lawyers at Hicks & Brasier take pride in the multitude of roles we have held in the Las Vegas community. It is through our vast number of experiences that we've developed connections with some of the top medical and accident reconstruction experts in the state. These valuable resources help us to uncover evidence and prove fault in injury cases.
The personal injury attorneys at our firm have secured millions of dollars in settlements and verdicts on behalf of injured victims in and around Las Vegas.
Amazing!!Very Friendly!!The best experience I have ever had with Hicks and Braiser I recommend them to everyone! I Got my settlement and I received the best of the best service keeping me updated and they are very well trained to help you your family and friends!
Very great people. I highly recommend this firm. This was the first time I ever needed to get an attorney, I'm glad I chose this firm. They are very kind people, they are very attentive and will do everything in their power to ensure you have the outcome you deserve. Alison is amazing as well as the rest of the staff. Thank you.
If your looking for a good lawyer well you just found the most amazing absolutely greatest Firm in Nevada. Hicks & Braiser. Jonathan Hicks is a absolutely amazing genious in his field of work & a very intelligent person who truly extremely cares about his clients well being & health situations and will guarantee fight for u every step of the way.
Discover how our injury law firm can help you move forward.
Call 702-628-9888 for a free, no-obligation consultation.
Our Role in Your Accident Case
Many people who are seriously injured will attempt to handle their own claims. They spend countless hours on the phone with insurance company representatives, gathering medical records, and requesting evidence. Unfortunately, the majority of these victims settle their cases for much less than their injuries are worth. Our team is here to make sure that doesn't happen to you. When you retain our services, we will:
Insurance representatives are trained to minimize claims. And while that's great news for the insurance company, their skill takes money out of your pocket and can prevent you from receiving compensation for necessary medical treatment. When insurance companies minimize your injuries or deny their responsibility to cover your medical bills, lost wages, and pain and suffering, our team steps in with evidence to back your claim.
Evidence in an injury case is not always obvious. We take the extra steps to gather and review photos and video footage, interview witnesses, and collect medical documentation to prove what really happened when you were hurt.
While we work to obtain a successful settlement and help you avoid a lengthy trial, doing so isn't always possible. When the other side refuses to budge, our injury attorneys are prepared to take your case to court and let a judge or jury decide your award.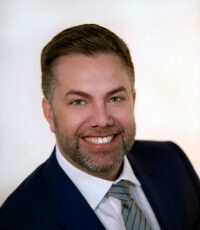 Jonathan is a founding partner of Hicks & Brasier. He is a proud third generation Nevadan whose roots are battle born in our silver state.
Alison Brasier was born and raised in Las Vegas and founded Hicks & Brasier with her partner, Jonathan Hicks, as a way to protect the rights of people in the community that she loves.
We Make Hiring an Injury Attorney Affordable
At Hicks & Brasier, we understand that your injuries have likely put you in a financial bind. Don't let the thought of another upfront expense prevent you from recovering compensation for your losses. Our attorneys offer our legal services on a contingent fee basis to ensure everyone who is injured has the ability to hire a lawyer to handle their case.
When you hire our firm, we will shoulder the financial burden of your claim throughout negotiation and litigation. And if we win your case, we will automatically deduct a pre-arranged percentage of your award to cover our fees.