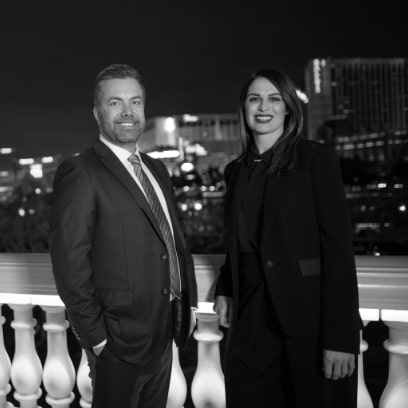 Las Vegas

Car Accident Attorneys
At Hicks & Brasier, our Las Vegas car accident attorneys help crash victims recover compensation for medical bills, lost wages, and pain and suffering. If you were injured in a car accident that was caused by someone else, our injury team can help you obtain financial relief.
For a free, no-obligation consultation with an experienced car accident lawyer in Las Vegas, call 702-628-9888.
Examining the True Cost of Car Accidents
The Insurance Institute for Highway Safety reports that motor vehicle crashes took the lives of 36,560 people in 2018. In Nevada, 330 people died and thousands more were severely injured. Many of the accident victims who survived suffered such severe injuries that they were unable to return to work, required ongoing medical care, and lost their ability to participate in the activities they had enjoyed before their accidents. For many accident survivors, their health, wellbeing, and financial stability are now in jeopardy.
Ambulance rides, hospital treatment, medications, adaptive equipment, and ongoing medical care are now a reality for countless accident victims and these expenses can quickly add up. Even for those with health insurance, these costs can cause financial ruin.
Recovering Damages After a Las Vegas Car Accident
Fortunately, victims of motor vehicle crashes do not have to shoulder the financial burdens that arise in the aftermath of a car accident. Depending on the cause of the crash, the insurance policies involved , and the extent of the victims losses, car crash victims may be able to recover thousands, hundreds of thousands, or even millions of dollars. 
If you were seriously injured in a crash, our accident attorneys can help you recover compensation for:
Medical Bills

Ongoing Medical Treatment

Lost Wages (past and future)
Pain and Suffering

Emotional Distress

Loss of Quality of Life
For a free, no-obligation consultation with an experienced car accident lawyer in Las Vegas, call 702-628-9888.
Common Causes of
Car Accidents
In the United States, a traffic accident happens approximately every minute. From minor fender benders to catastrophic collisions, car accidents injure and kill millions of people every year. Most car accidents in Las Vegas are caused by preventable driver error. The top causes of crashes include the following.
Distracted driving has become a leading cause of serious car accidents, contributing to nearly 3,000 deaths each year. If drivers are engaging in any activity that diverts their attention from the task of driving, they are driving distracted. Common distractions include texting, scrolling through social media, eating and drinking, and talking on the phone.
When drivers are impaired by drugs or alcohol, their motor skills, reaction time, judgment, comprehension, and vision are compromised. This jeopardizes their safety and the wellbeing of others on the road. Alcohol impairment causes approximately 25% if all traffic-related deaths in the United States. Prescription medications and illegal drugs also play a significant role in injury and fatality crashes.
Driving at excessive speeds increases the risk of getting involved in a car accident because it is more difficult for a driver to maintain control. The faster a motor vehicle is moving, the more distance a car travels in a shorter period of time. This reduces the driver's ability to react to road hazards. Additionally, the effectiveness of passenger safety features is reduced, and the resulting injuries are often much more severe.
Fatigued drivers are slower to react to road hazards, often have difficulty concentrating, and experience impaired motor skills. Recent studies suggest that a fatigued driver is often as dangerous as a driver who is impaired by drugs or alcohol.
Very great people. I highly recommend this firm. This was the first time I ever needed to get an attorney, I'm glad I chose this firm. They are very kind people, they are very attentive and will do everything in their power to ensure you have the outcome you deserve. Alison is amazing as well as the rest of the staff. Thank you.
Akir_a san
If your looking for a good lawyer well you just found the most amazing absolutely greatest Firm in Nevada. Hicks & Brasier. Jonathan Hicks is a absolutely amazing genious in his field of work & a very intelligent person who truly extremely cares about his clients well being & health situations and will guarantee fight for u every step of the way.
jacob wilson
Amazing!!Very Friendly!!The best experience I have ever had with Hicks and Brasier I recommend them to everyone! I Got my settlement and I received the best of the best service keeping me updated and they are very well trained to help you your family and friends!
Alv Al
Determining Liability After a Crash
If you were injured in a car accident in Las Vegas, determining liability may be tricky. Our injury attorneys will investigate the events that caused your crash and help you recover compensation from all parties who may be liable. Even if you contributed to the cause of your accident, we may be able to help you recover money damages. Parties who may be liable for car accident injuries include:
Road Construction Companies
Vehicle Parts Manufacturers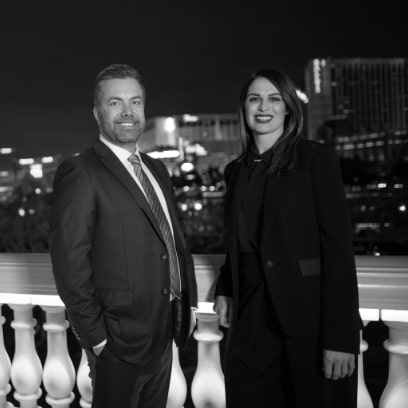 Our Practice Areas